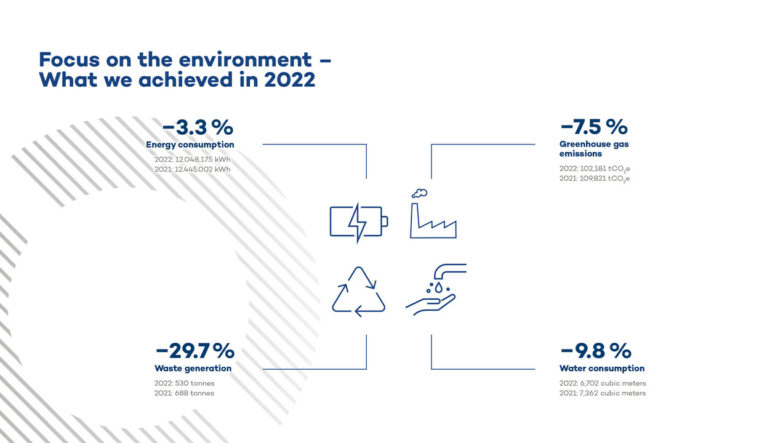 va-Q-tec publishes its second sustainability report in accordance with the German Sustainability Code (DNK).
The company reports on its strategies, goals and measures in the areas of environment, employees and social affairs, and corporate governance.
In the environmental section in particular, an improvement in numerous key figures was achieved.
In addition, va-Q-tec's sustainability activities were systematically linked to the UN Sustainable Development Goals (SDGs) for the first time.
With its energy-efficient products and services, the company makes a decisive contribution to increasing sustainability in many areas of daily life.
Since its foundation more than 20 years ago, the development of sustainable and energy-efficient products based on vacuum insulation technology has been firmly anchored at va-Q-tec. Responsible action has a correspondingly high priority for the company. With the publication of the Sustainability Report 2022, which was prepared in accordance with the German Sustainability Code (DNK), va-Q-tec is taking the next consistent step in its sustainability efforts. This makes va-Q-tec one of the few companies from the temperature-controlled supply chain and thermal energy efficiency sector to publish such a report.
Sustainability strategy as central basis for future orientation of sustainability activities
By integrating important key points and goals into its sustainability strategy for the first time, va-Q-tec has laid the foundation for its future direction and the focus of its sustainability efforts. This marks a significant milestone in the process of strategy development and sets the path for a sustainable future for the company.
Significant improvement in environmental performance
In 2022, while production increased, va-Q-tec made significant progress in environmental performance at its German sites.
With a decrease of 3% compared to the previous year, the company reduced its energy consumption to 12,048,175 kWh, compared to 12,445,002 kWh in 2021.
In addition, the company's greenhouse gas emissions were further reduced. In 2022, a total of 102,181.01 tonnes of CO2 equivalents (tCO2e) were emitted, a reduction of around 7% compared to 2021.
Another area where va-Q-tec achieved a significant improvement is in reducing our waste generation. In 2022, va-Q-tec generated approximately 530.1 tonnes of waste, which is a significant reduction of approximately 23% compared to the previous year (687.71 tonnes).
In addition to these achievements, va-Q-tec has also successfully reduced its water consumption. In 2022, the company consumed a total of 6,702 cubic metres of water, compared to 7,362 cubic metres in 2021, a reduction of around 9%.
Employees as a central success factor
Not only sustainable production and efficient products are relevant for the company's success – motivated and qualified employees are just as indispensable. The topics of equal opportunities, diversity and employee health are a central focus of human resources policy. To this end, the company's internal health management system va-Q-care was introduced in 2022. In addition, va-Q-tec offers its employees a wide range of training opportunities. The fact that these measures are effective is shown, among other things, by the very low fluctuation rate of 2.7% compared to the rest of the industry (manufacturing).
Dr. Joachim Kuhn, founder and CEO of va-Q-tec: "We do not regard sustainability as an end in itself, but as a value that makes us fit for the long-term future. By putting our values and vision into practice in a structured manner, we aim to further contribute to ensuring that sustainability at va-Q-tec is not just an insubstantial buzzword – as is unfortunately all too often the case elsewhere – but is firmly anchored in every aspect of our business activities. For this reason, we are endeavoring to continuously optimize our business practices to minimize our environmental footprint while maximizing social and economic benefits. We are convinced that through our commitment to sustainability, social responsibility and strong governance, we can make a decisive contribution to the European Union's Green Deal and to achieving a green, inclusive and sustainable economy. With the new va-Q-tec 2.0, we will focus even more on the topic of energy efficiency in the future."
The sustainability report can be found here.