The innovative VIP-Portfolio of va-Q-tec
va-Q-tec has a large VIP product variety and has been a trendsetter in the insulation sector since its inception, and has since then successfully launched three generations of vacuum insulation panels. Multiple product types mean that our clients can choose the best technical solution to suit their specific needs.
VIP Panels with distinctive core materials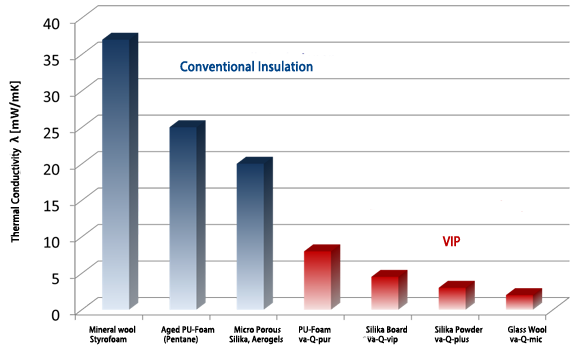 va-Q-tec is currently the only provider of vacuum insulation panels worldwide offering four distinctive core materials in serial production:
Silica panel
Silica powder
Fiberglass panel
Polyurethane panel
Smooth edges with va-Q-seam
The rectangular shape of va-Q-tec's VIPs is achieved with va-Q-seam technology. This unique technology is patent-protected worldwide and can only be used for va-Q-tec VIPs. The special edge-folding technique produces smooth edges which significantly simplifies the panel installation. Our unique va-Q-seam technology allows us to join and install VIPs virtually without gaps and thermal bridges.
The unique flexibility and shape-ability of va-Q-tec's award-winning VIPs give va-Q-tec a distinctive competitive advantage in the field. We are the only manufacturer of vacuum insulation panel's worldwide producing VIPs in various 2D and 3D shapes in automated serial production. 3D shapes, folded VIPs, panels with cut-outs, shaped corners or apertures, cylindrical or round panels. If required, your va-Q-tec panels can be customized to meet your specific requirements.
Here a selection of our various VIP shapes: