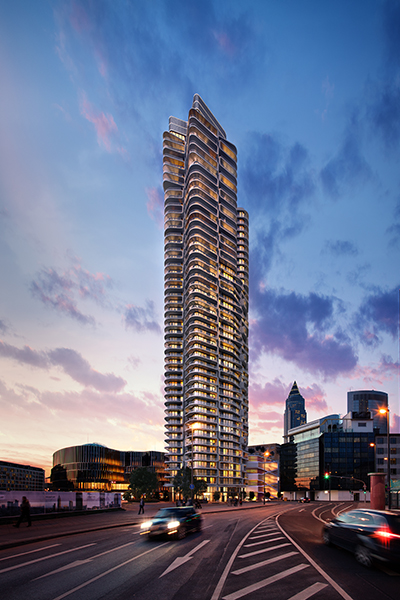 va-Q-tec insulates parts of the Grand Tower Frankfurt facade
Living in the city, working around the corner, insulating with vacuum panels: a triad which should be part of the future. After all, population figures in many large cities have been exploding for years. At the same time, space is very limited there, so every square meter of residential and commercial space counts – for each individual as well as for society as a whole.
A prestige object that impressively demonstrates this fact is the Grand Tower Frankfurt – the tallest residential building in Germany. With 172 meters and 401 apartments, the skyscraper rises up from the heart of the banking metropolis on the edge of the Europaviertel neighborhood and is insulated with our vacuum insulation panels (VIPs) – exactly at the points on the facade where supply shafts make it particularly narrow. "Although this is only a 1.25 meter wide strip of wall per apartment, which houses the building services, among other things," says Ronald Ellebrecht, who supervised the project as Key Account Manager, "but extrapolated to the 47 floors with an average of nine apartments per level, a tidy area comes together."
The highlight: 50 mm thick VIPs are used. Ordinary insulation boards would be about 250 mm thick in this case – with identical low energy values. "In the Grand Tower, this difference makes up slightly less than three square meters of living space per floor," explains Ellebrecht. "With 47 floors, the space savings add up to around 123 square meters." This corresponds to a spacious apartment, which has its price in a booming city center like Frankfurt. "The purchase price for one square meter in the Grand Tower is between €5,000 and €15,000," reports Ellebrecht. Not least for this reason, insulation with VIPs is extremely interesting from an economic point of view for building owners, says the expert and mentions further arguments in favour of this innovative insulation technology: "You achieve optimum passive house values that meet the highest ecological standards – and also from a purely visual point of view it is an added bonus if there isn't a corner protruding into the living room.
Speaking of looks: The award-winning Grand Tower, which was realised under the leadership of Berlin-based gsp Städtebau, is also an absolute eye-catcher because it features many organically shaped units, so-called "tubes". This facade shape also has other advantages – including that the skyscraper is better protected from wind and direct sunlight. At the same time, it captures a particularly large amount of daylight. "This requirement initially presented us with a major hurdle, as we had previously only had panel-shaped building VIPs in our range," explains Ronald Ellebrecht. But our engineers successfully developed curved VIPs on their own initiative, which are produced at our headquarters in Würzburg. "This is another technological leap forward for us." The VIPs are directly integrated into glass facade systems at the facade manufacturer RIVA GmbH Engineering in Backnang, Swabia. "These can then easily be fitted to the Grand Tower on site, " emphasizes Ellebrecht. The pressure-stable core material consists of a pressed, microporous powder. The interior is packed and evacuated, i.e. the air is removed, creating a vacuum, by means of a high-barrier film using a special process to make it air-tight.