20 years of experience and award-winning technology
Vacuum insulation panels are our passion. va-Q-tec has already won numerous national and international awards for energy-efficient technologies based on this product. In order to keep the innovation lead, we invest a lot in research & development as well as in the commercialization of innovations.
va-Q-tec has the world's largest VIP product portfolio and more than fifty active international intellectual property rights, including the unique quality control va-Q-check®. In addition, va-Q-tec is regularly certified by TÜV SÜD in accordance with DIN EN ISO 9001, ISO 50001 and ISO 14001.
Own production of components and individual insulation solutions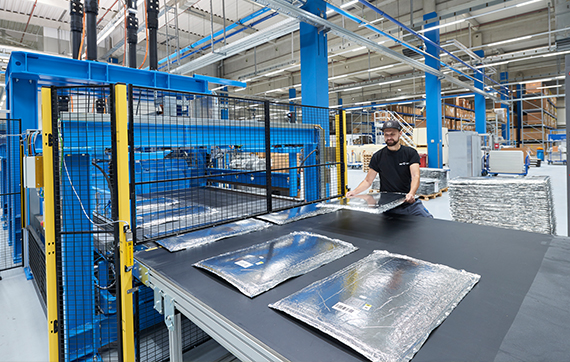 va-Q-tec covers the entire value-added chain from VIP development through manufacturing to distribution in highly specialized industries.
We are also specialists in the production of other components such as cold and heat storage (Phase Change Material, PCM) in our own factory. Through our many years of know-how, excellent facilities for test procedures and official validation by experts in heat physics, we develop individual solutions for complex customer requirements.
Using the best high-barrier films available on the market, to achieve the lowest possible increase in pressure and a long service life of the VIP.
Consistent inspection of incoming high-barrier films and core materials.
100% control of all produced vacuum insulation panels with regard to their gas pressure.
Excellent thermal insulation performance up to 10 times more efficient than traditional insulation materials
Homogeneous temperature distribution
Re-qualifiable with va-Q-check
Space saving
Flexibility for various shapes (e.g. 3D)
Vacuum Insulation Panels (VIPs) are designed and manufactured in our own factory to meet the highest thermal protection standards for your products even in extreme environmental conditions. A VIP is a thermal insulation panel that insulates up to ten times better than traditional thermal insulation materials. The VIP is an evacuated gas impermeable heat insulation panel with outstanding insulating properties. The core material consists of a pressed powder board of fumed silica and is not flammable. It is sealed under vacuum with a gas-vapor-tight film. By creating a vacuum, gas conduction is virtually eliminated. A risk when using the VIPs is the loss of the vacuum over time and damage to the vacuum-tight envelope, not visible to the naked eye.
Therefore a quality control system is very crucial when using VIPs. va-Q-tec has developed va-Q-check – a unique and reliable quality control system that allows for accurate control of the vacuum within the VIPs in seconds. Further, the va-Q-check ensures qualified and reliable use of temperature-controlled packaging.
va-Q-tainer containers provide thermal shock resistance. This means that the container reacts in a unique way to hot and cold shocks caused by rapid changes of the outside temperature. These rapid changes have an influence on the internal temperature of the container. Thanks to the excellent VIPs installed in the container walls, the influence on the internal temperatures is delayed by 6 to 8 hours. In case of external temperature shocks, the influence of the temperature variations to the interior of the container is reduced tenfold.