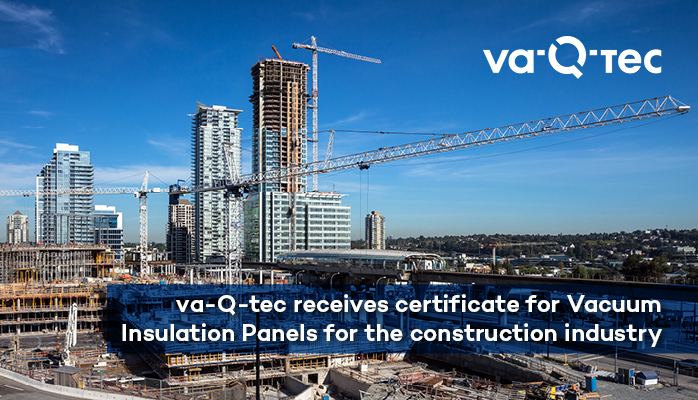 Customers benefit from sustainable form of insulation from environmentally friendly and climate-neutral production in Germany.
The super insulation material is now certified in accordance with ISO standard 14021.
Würzburg, November 15, 2022: All vacuum insulation panels from va-Q-tec are certified according to ISO standard 14021 and provide energy-efficient insulation. The production of the panels is climate neutral in Germany. Sustainable power generation with a combined heat and power plant and photovoltaic systems as well as a regional supplier structure minimize the ecological footprint of the VIPs already during production. For production recycled materials are used. In addition, the VIPs are a sustainable solution to customer requirements around energy savings and CO2 emissions. Since they counteract the waste of energy for thermal purposes, they pay off as a sustainable solution for the end user, who can thus save energy.
The company va-Q-tec develops, produces and sells vacuum insulation panels (VIPs). In this insulation material, the low thermal conductivity of the vacuum, as known from the thermos flask, has been transferred into panel form. Used in new buildings and in the renovation of existing buildings, the insulation material offers a high insulating effect with a low material thickness: a vacuum insulation panel insulates up to ten times better than conventional insulation materials. A 20 millimeter VIP is thus equivalent to 20 centimeters of conventional fiber or foam insulation materials.
As a result of their low material thickness, vacuum insulation panels (VIPs) are used where there is little space or space is very expensive, such as in narrow city centers. VIPs are ideal for the useat access routes or in places where otherwise narrow spaces would be created. For example, 3 centimeter of vacuum insulation can replace up to 30 centimeters of conventional insulation and meet all fire safety requirements for building applications. This form of retrofit insulation is thus also suitable for the energy refurbishment of listed buildings.