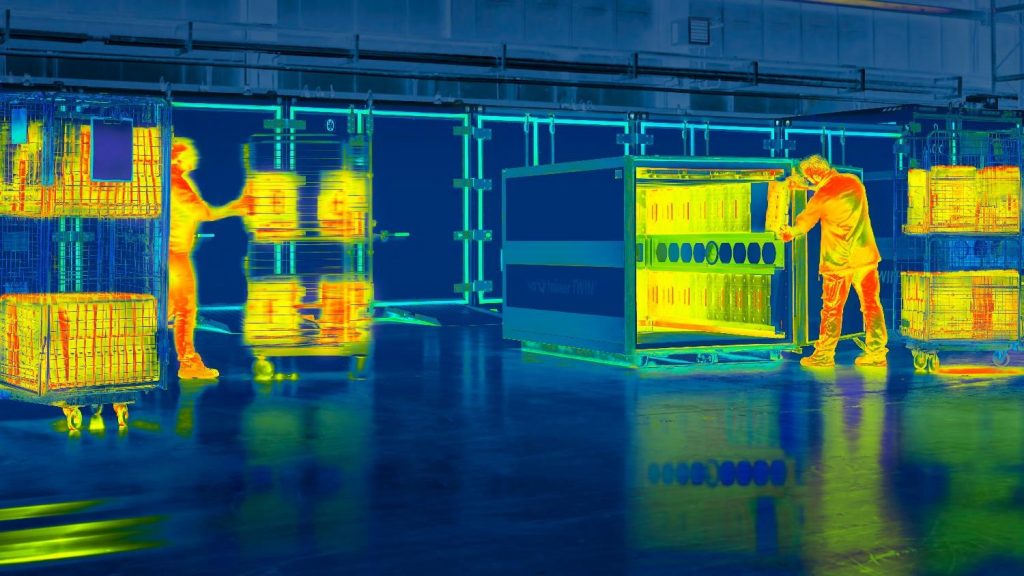 Slight decrease in revenues of -3% in Q1 2023 to EUR 27.2 million compared to EUR 28.0 million in Q1 2022
Very dynamic growth in the Products business (+28%), especially in the refrigeration equipment area
Transaction costs, higher energy costs and a renewed rise in travel and trade show costs weigh on earnings
Adjusted EBITDA in Q1 2023 of EUR 1.1 million compared to EUR 3.9 million in Q1 2022 (‑72%); adjusted EBITDA margin of 4% in Q1 2023 compared to 14% in Q1 2022, based on total income
Further very encouraging trend in expansion of business with the food industry in the TempChain area and deepening of the partnership with Sartorius AG
Würzburg, 23 May, 2023: va-Q-tec AG (ISIN DE0006636681 / WKN 663668), pioneer of highly efficient products and solutions in the area of thermal insulation (so-called super thermal insulation) and temperature-controlled supply chains (so-called TempChain logistics), recorded a subdued start to the 2023 financial year compared to the previous year's strong coronavirus-related basis. Revenues in Q1 2023 decreased slightly by -3% year-on-year from EUR 28.0 million to EUR 27.2 million. This reduction was largely influenced by the Systems (sale of thermal packaging) and Services ("Serviced Rental" of boxes and containers) divisions and is attributable to the very sharp drop in revenues in connection with COVID-19 vaccine shipments, which accounted for just 7% of consolidated revenues. Earnings before interest, tax, depreciation and amortization (EBITDA) adjusted for costs related to the takeover offer by EQT Private Equity decreased to EUR 1.1 million compared to EUR 3.9 million in Q1 2022 (‑72%). As a consequence, the EBITDA margin amounted to 4% of total income (Q1 2022: 13%). The Management Board expects revenues and earnings to regain momentum over the course of the year.
The individual divisions of va-Q-tec AG recorded the following trends during the first three months of 2023: the Products division, which includes sales of vacuum insulation panels and phase change materials, recorded very dynamic year-on-year revenue growth of 28% in Q1 2023 to a level of EUR 7.0 million (Q1 2022: EUR 5.5 million). This growth was mainly driven by revenues in the refrigeration equipment sector. Business in other end markets, particularly in the engineering and industrial sectors, also continued to perform well. In the Systems division (sale of thermal packaging systems), revenues decreased by -14%, from EUR 8.8 million in the strong prior-year period, which was characterized by coronavirus vaccine transports, to EUR 7.6 million. The very positive prior-year figures were crucially influenced by business with the va-Q-pal. A significant recovery in the Systems division is expected over the further course of the year. va-Q-tec also recorded lower revenues in its Services division. The Services division, which comprises the container and box rental business for the transport of temperature-sensitive goods, mostly from the pharmaceutical and biotech sectors, reported revenues of EUR 12.2 million in Q1 2023, down from EUR 13.1 million in the same period last year (-7%), which was also significantly positively influenced by coronavirus vaccine transports.
Overall, the coronavirus business accounted for just 7% of the revenues of va-Q-tec AG in Q1 2023 (Q1 2022: 21%). In addition to coronavirus revenues that did not recur, earnings in Q1 2023 reflected higher energy costs and higher personnel expenses as well as a renewed significant increase in travel and trade fair costs. Moreover, the transaction costs incurred in connection with the takeover offer by EQT also had a negative impact on the profitability trend in the first quarter. The takeover offer is currently still subject to the antitrust and regulatory reservations as described in the offer document. In the company's view, the earnings trend will normalize as business expands. Operating cash flow decreased to EUR -2.5 million in Q1 2023 (Q1 2022: EUR 2.1 million). In the first instance, free cash flow is clearly negative at EUR ‑4.7 million. However, the negative free cash flow is reduced considerably to just EUR ‑0.4 million when adjusted for the non-recurring, extraordinary payments in connection with the takeover offer.
During the past quarter, va-Q-tec again made important progress in the further development of its business model. Together with Sartorius AG, a partnership to optimize logistics for the shipment of bulk drug substances (BDS) was driven forward and announced in April 2023. This should enable the potential in TempChain logistics to be leveraged even more effectively in the future. The expansion of business with the food industry in the TempChain segment also continued on a very positive trend in Q1 2023. With the va-Q-tray, temperature-sensitive foods can be transported and stored securely and at a constant temperature for several hours without external energy supply. In addition, the va-Q-tray is extremely sustainable thanks to its multiple uses and highly energy-efficient mode of operation.
Dr. Joachim Kuhn, CEO of va-Q-tec AG, comments: "Not only due to the continued challenging macroeconomic environment, va-Q-tec's overall business performance in the first quarter of 2023 was mixed. A year-on-year comparison still very much influenced by vaccine shipments and transaction costs due to the ongoing takeover process, including the antitrust review, also had a negative impact on our Q1 2023 results. Nevertheless, our business model continues to prove robust and offers great potential for further growth. This is impressively demonstrated by the 28% revenue growth in our Products business. It is worth noting that VIP technology is becoming increasingly important due to the new EU energy efficiency labels for refrigerators and freezers that came into force on 1 March 2021. We are also very pleased with the expansion of our business with the food industry in the TempChain area. In addition, va-Q-tec is also valued as a reliable partner in numerous other areas. Our products offer important solutions at a time of soaring energy prices and ever-increasing demand for energy and carbon savings."