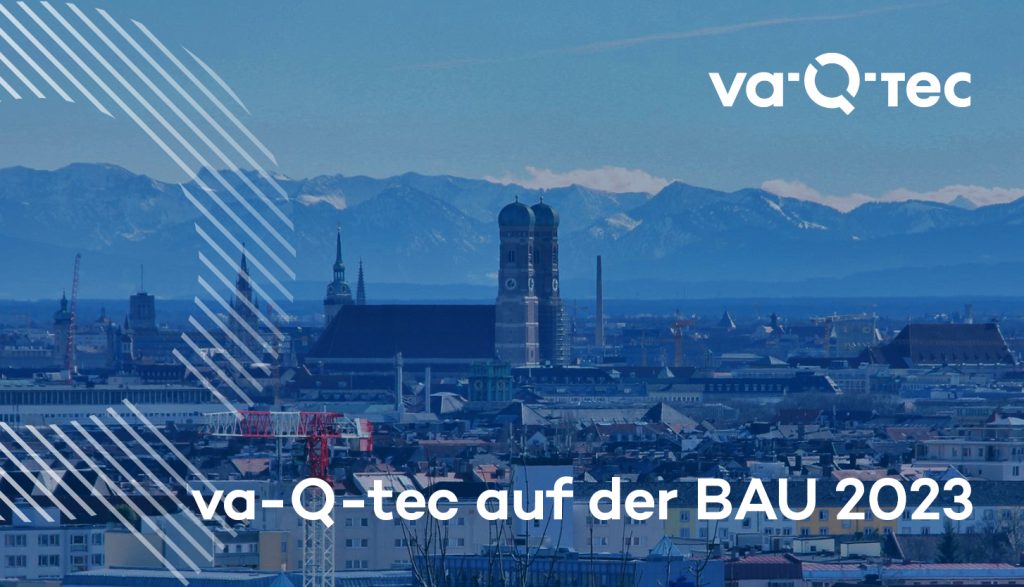 va-Q-tec presents sustainable, energy- and space-saving building insulation with vacuum insulation at BAU.
va-Q-tec's innovative product, the va-Q-shield, offers unique fire protection and safety in addition to outstanding insulation performance.
Würzburg, 22 February, 2023: The importance of sustainability and the need to save more energy are placing increasing demands on the insulation of buildings. Conventional foam and fiber insulation materials take up a significant amount of space and lose their effect over time. This is where the advantages of vacuum technology stand out: va-Q-tec produces energy-efficient, space-saving and environmentally friendly vacuum insulation panels (VIPs) that insulate up to 10 times better than conventional materials of the same thickness in the building sector.
As a pioneer of highly efficient insulation solutions, va-Q-tec will be presenting its innovative insulation solutions at BAU, the world's leading trade fair for architecture, materials, and systems. BAU is a key meeting place for those within the industry, and as one of the highlights, va-Q-tec will be displaying a vacuum insulation panel with unique fire protection at the trade fair center in Munich, from April 17 to 22.
Vacuum insulation solves space problems with energy-efficient, high-performance insulation
As a result of their low material thickness, vacuum insulation panels (VIPs) are used where space is limited or where space is very expensive, such as in densely built-up inner cities. For example, 3 centimeters of vacuum insulation can replace up to 30 centimeters of conventional insulation. This form of retrofit insulation is therefore also suitable for the energy-efficient refurbishment of listed buildings.
Low material thickness combined with fire protection
The va-Q-shield is a unique and innovative high-performance insulation material. Not only does it meet the highest demands of insulation performance, but it is also the world's first vacuum insulation panel to be classified in fire class B-s1, d0 according to EN 13501-1. Without the use of an additional protective layer or lamination, this panel is classified in the category of flame-retardant materials. The core material used even meets fire class A according to EN 13501-1, meaning that it is non-combustible. The excellent product properties meet the highest safety standards in terms of smoke development and burning dripping.
All vacuum insulation panels from va-Q-tec are certified according to ISO standard 14021 and provide energy-efficient insulation. The production of the panels is climate neutral in Germany. Sustainable power generation with a combined heat and power plant and photovoltaic systems, as well as a regional supplier structure, all contribute to minimizing the ecological footprint of the VIPs during production. In addition, the vacuum insulation panels can be recycled after their use-life and returned to the production process.