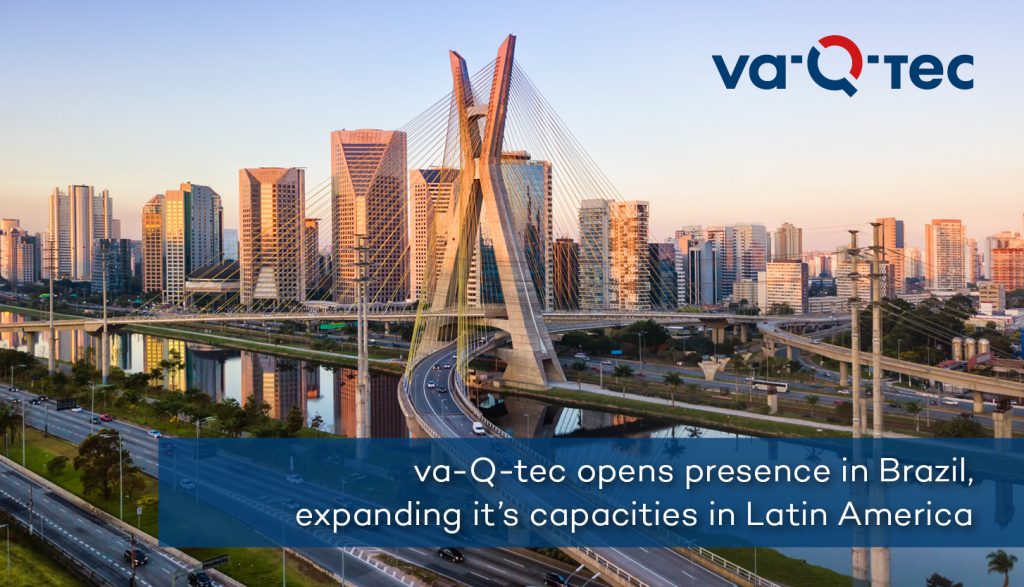 va-Q-tec strengthens its presence in Latin America's largest pharmaceutical sales market with a new location in São Paulo, Brazil.
The opening of an additional TempChain Service Center in Brazil enables the fast and secure supply of local and international customers
With a new partner va-Q-tec optimizes the availability of TempChain solutions
With the foundation of va-Q-tec do Brazil, the company now has nine foreign branches and is consistently continuing its global expansion strategy
Würzburg, 01 April 2022: Thermal energy efficiency and temperature-controlled supply chain expert va-Q-tec opens va-Q-tec do Brazil, its second subsidiary in Latin America. With the ninth foreign subsidiary in São Paulo, Brazil, the company continues its expansion in the global market. With the additional location in the Brazilian economic metropolis, va-Q-tec creates new opportunities for international and strategic growth.
With over 200 million people, Brazil is the most populous country in Latin America, encompassing extremely diverse climates, from tropical humid to dry and hot. As the largest country in terms of area on the South American continent, the country has a comparatively complex logistics infrastructure. São Paulo, centrally located in the south-east of the country, is the best developed – it is home to the largest airport and the public seaport of Santos, with the highest turnover and a high density of logistics parks. The city is connected to important metropolises such as Rio de Janeiro, Belo Horizonte and Brasília via trunk roads and air routes. In addition to its vast geographic reach, Brazil has the largest pharmaceutical market in Latin America, with a market value of approximately US$21 billion by 2020, and steadily improving access to universal healthcare. In addition, the share of healthcare spending in Brazil's gross domestic product is around 10 per cent.
va-Q-tec had previously opened a TempChain Service Centre in São Paolo in 2019. With the new location, the company is underlining its commitment to the Brazilian market and is now creating even greater availability of TempChain solutions with its new partner DSV. The role of Managing Director in Brazil will be taken over by Edgardo Ipar, who has already been very successful with the foundation and business development of the va-Q-tec subsidiary in Uruguay. Specific goals include the expansion of the container rental and box business.
"The registration of va-Q-tec Do Brazil officially took place at the end of September 2021 and the operational start of the location in São Paolo is planned for the first quarter of 2022. There, with our portfolio of boxes as well as multi-use and single thermal containers, we will bring customer-oriented, safe and sustainable solutions to the market," explains Edgardo Ipar, Managing Director va-Q-tec Brazil. "In particular, the 'TempChain Services' business model, which is new to the Brazilian market, gives customers access to cost-effective high-performance solutions and ensures a solid foundation for the provision of high-quality services for the fast-growing Brazilian healthcare logistics business."