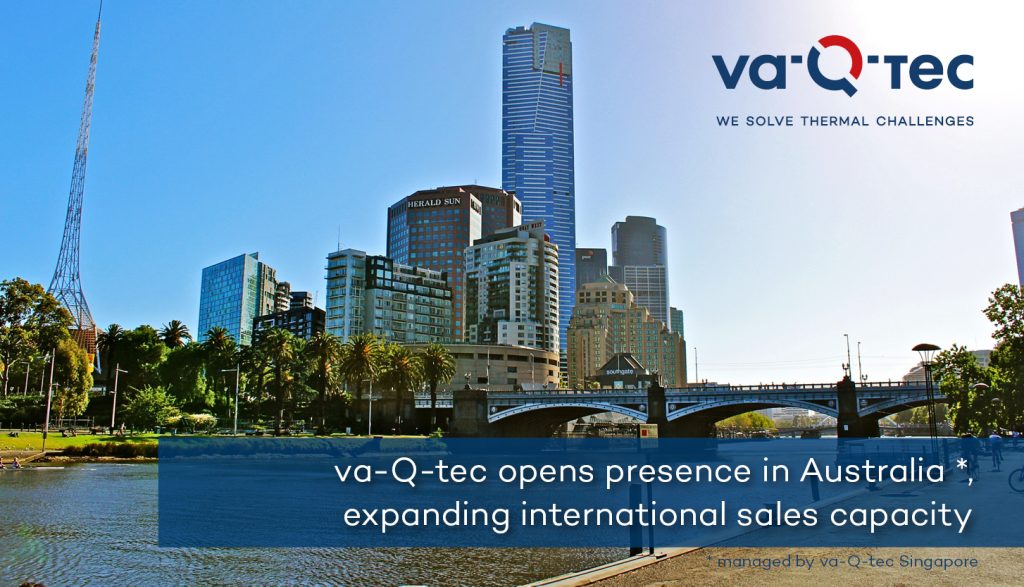 va-Q-tec's internationalization strategy is progressing. Following the recently announced establishment of an Indian subsidiary based in Mumbai, the company is now also initiating various projects in Australia with Rebecca Pearce. The industry expert is now available to customers and partners of the internationally active supplier of thermal boxes and containers on site and will intensify and further expand the relationships already existing there.
In the following interview, she and Christopher J. Storch (Global Head of Sales of the va-Q-tec Group) answer various questions about this exciting development of a new continent.
Christopher, why is va-Q-tec now strengthening its presence in Australia with Rebecca Pearce?
Christopher J. Storch: As an innovative provider of transport solutions for temperature-controlled supply chains, we are already closely networked with many Australian companies in the healthcare and pharmaceutical industries. Through our service station in Melbourne, we can already offer our services in full. All processes – such as quality assurance and preconditioning of our high-performance thermal containers – are established and have been running smoothly for a long time. The logical next step with regard to our internationalization strategy is now to establish personal support on site and I am very pleased to have won Rebecca for this and to now take the necessary next steps with her.
Rebecca, welcome to the va-Q-tec team! What conditions did you find when you started?
Rebecca Pearce: In addition to the already existing TempChain Service Center, we already have various partners and customers, some of whom we have been working with for several years. With our TempChain Service Center in Melbourne, we have already proven that we can safely and reliably handle temperature-controlled shipments despite the challenging Australian climate. Both our thermoboxes and our containers have proven to be the best choice – after all, they keep even very low temperatures inside constant thanks to vacuum insulation as well as our special temperature storage elements, even without power supply.
Christopher, what are the planned next steps?
We expect to significantly expand our Australian business in the coming months. In doing so, we will not only focus on our existing customer base, but also expand awareness of our products in the Australian market. As we now have a global reputation for the outstanding performance and reliability of our products and solutions, I am confident that we will be able to increase our market share in this dynamic and expanding market. The issue of corona vaccine shipments is not the only one that plays a role in this.