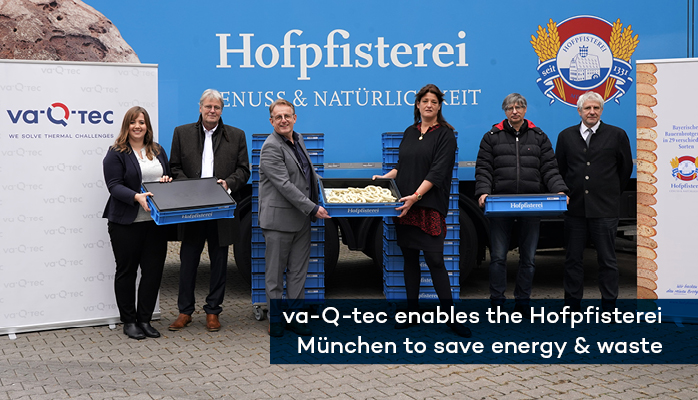 Since January 2022, Hofpfisterei München has been using several thousand va-Q-tray boxes for the transport of frozen lye bakery products dough pieces.
By using va-Q-tec's passive reusable solution, freezer cabinets can be dispensed within the stores, saving approximately 320 kWh/day of energy.
In addition, Hofpfisterei saves about 50 tons of packaging waste annually by using the va-Q-trays.
The va-Q-tray is an easy-to-clean, durable reusable solution for temperature-controlled transport of food products that does not require any external energy supply.
Würzburg, May 31, 2022: va-Q-tec, pioneer of highly efficient products and solutions in the field of temperature-controlled supply chains, was able to convince Hofpfisterei Munich with its innovative va-Q-tray solution. Since the beginning of 2022, the bakery has been using several thousand units of va-Q-tec's passive thermal boxes for the transport of frozen dough pieces. The va-Q-trays, which are particularly designed for the temperature-stable transport of foodstuffs, were individually adapted to the customer needs of Hofpfisterei – for example, exactly two trays of pretzels, i.e. 24 pieces, fit inside the box. With the va-Q-tray, Hofpfisterei has now been transporting approximately 13,000 pretzels and 2,000 pretzel sticks per day since January – like all Hofpfisterei products, they are produced ecologically and sustainably.
With the va-Q-tray, temperature-sensitive foods can be transported safely and at a constant temperature for up to several hours without the need for external energy. With the help of highly efficient vacuum insulation panels (VIPs), va-Q-tec's key technology, the va-Q-tray boxes insulate around five times better than conventional insulation boxes based on expanded polystyrene, for example. The optional use of phase change materials (PCMs), similar to a cold pack, can extend the temperature holding time. The same technology from va-Q-tec is also used, for example, to transport medicines or vaccines such as those against Covid-19. The va-Q-tray is also characterized by its good manageability, its durability as well as its easy cleaning and its standardized size, which allows easy stacking.
At both, Hofpfisterei München and va-Q-tec, sustainability is at the core of all activities. With their products and services, both companies make an important contribution to environmental protection and nature conservation. The va-Q-tray also contributes to increasing Hofpfisterei's sustainability: by using the passive solution, the company can dispense with the very energy- and maintenance-intensive operation of freezer cabinets in its stores. This saves approximately 320 kWh per day. In addition to these energy savings, the amount of packaging waste generated can also be drastically reduced. According to Hofpfisterei, switching to the va-Q-tray reusable solution saves around 50 tons of packaging waste per year, mainly polyethylene film and cardboard packaging.
The va-Q-tray 15, as the individual solution for Hofpfisterei Munich is called, expands va-Q-tec's portfolio in the area of food logistics. With the va-Q-tray 15, the va-Q-tray 25 and the va-Q-trolley, a trolley that is highly insulated and into which several va-Q-trays fit stacked, va-Q-tec can now respond optimally to a wide variety of customer requirements.
Jochem Holterbosch, member of the Hofpfisterei management and responsible for technology, occupational safety and environmental protection as well as project manager of the introduction of the va-Q-trays, states about the cooperation with va-Q-tec: "We are glad to have found a partner in va-Q-tec who has responded individually to our needs. In a short time, we have jointly created an innovative, sustainable product. For us, the idea of sustainability is paramount: we feel committed to this and future generations and want to offer our customers a healthy food product. To this end, we consider each of our production and logistics processes. With our purely ecological production method, we simultaneously demonstrate our future-oriented commitment to a careful treatment of nature and its resources. The va-Q-trays allow us to save energy and drastically reduce our packaging material. This is good for us and our environment."
Dr. Joachim Kuhn, founder and CEO of va-Q-tec on the partnership with Hofpfisterei: "We are proud to have successfully implemented such a highly innovative project in food logistics with Hofpfisterei. The project pays off for everyone: For Hofpfisterei and its customers through higher quality and cost savings, and for the environment through huge CO₂ savings."