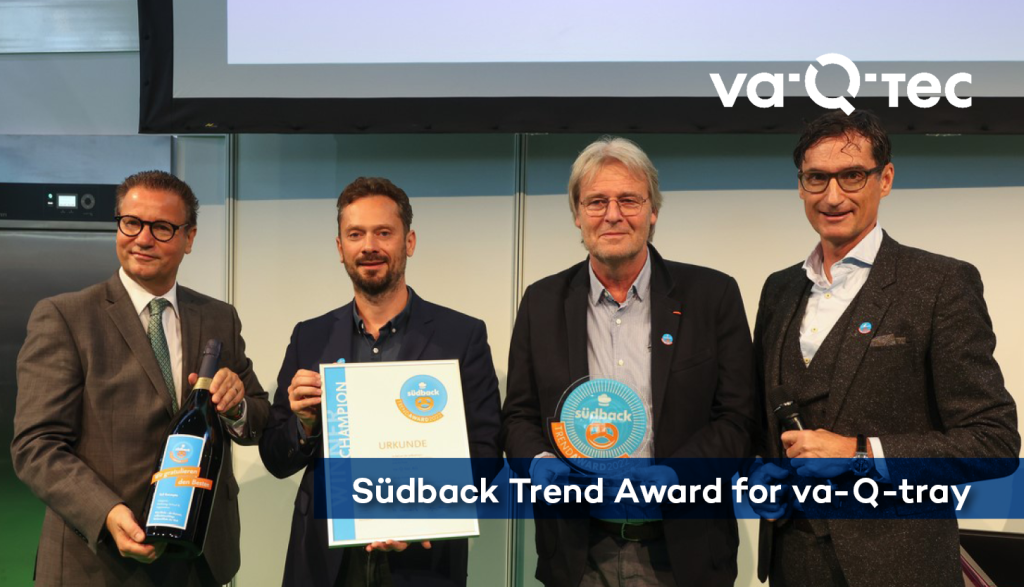 va-Q-tec prevails in the Technology category with the reusable thermal transport box, va-Q-tray, against around 60 other products
The jury was impressed with the energy- and cost-saving thermal insulation technologies
All award-winning innovations will be shown at Südback in Stuttgart from 22 to 25 October 2022
Würzburg, 24. October 2022: At this year's Südback event in Stuttgart, the va-Q-tec reusable thermal transport box received the Trend Award 2022. Since 2005, an expert jury has been awarding prizes to the most important industry innovations at the trend fair of the European bakery and confectionery industry. In the "Technology" category, va-Q-tec AG was able to collect the most points with its va-Q-tray. The va-Q-tray ensures temperature-controlled transport of dough products as well as confectionery and snack products thanks to its special insulation with high temperature stability. Trade fair visitors will receive further information on the innovative transport solution at the va-Q-tec booth (Hall 9, Aisle D, Booth 79).
The exceptionally insulated and high-tech reusable solution is built with a 3-layer system: an outer protective cover (small load carrier KTL), vacuum insulation panels (VIPs) as a high-performance thermal insulation layer, and a food-grade plastic inlay on the interior. Altogether, the va-Q-tray ensures high mechanical stability and outstanding thermal insulation. Compared to conventional insulating boxes, a fivefold higher insulation performance is achieved. The va-Q-tray can thus maintain the desired temperature without electricity for many hours and is particularly suitable for frozen and refrigerated goods.
If necessary, the va-Q-tray boxes can also be equipped with cold packs to extend the operating time. They have integrated carrying recesses, are easily stackable, and correspond to the standardized Eurobox size of 600 x 400 millimetres which can therefore be combined with other commercially available transport boxes. In addition, users benefit from the boxes easy to clean features.
Saving energy and packaging
In the bakery industry, the va-Q-tray is mainly used for efficient delivery to bakery branches and thus serves as an alternative to energy- and cost-intensive refrigerated vehicles. This enables low-emission and cost-effective store delivery. Furthermore, this transport solution has already proven itself many times since it was introduced. One example is Hofpfisterei München, who have been using several thousand units of passive thermoboxes for the transport of frozen pastry dough since January 2022.
With the va-Q-tray, Hofpfisterei supplies its branches with around 13,000 pretzels and 2,000 pretzel sticks per day. By using this passive solution, the company no longer needs the energy- and maintenance-intensive operation of freezer cabinets within stores, in turn, saving about 320 kWh per day. Additionally, the amount of packaging waste has been drastically reduced by using the va-Q-tray. According to Hofpfisterei, switching to the reusable solution, va-Q-tray, will save around 50 tons of packaging waste per year, mainly polyethylene film and cardboard.
"We are delighted that we were able to convince the expert jury with our va-Q-trays," says Marc Mölter, Head of Sales Food at va-Q-tec. "Especially in view of rising energy prices, the transport solution can contribute to effective savings. Since our customers also need less packaging material and we already pay attention to climate neutrality during the production process of our boxes, the va-Q-tray is particularly environmentally friendly."
The Südback Trend Award will be presented for the 13th time this year. An expert jury selected the 20 strongest proposals from around 60 submissions and then selected the winners in three categories.