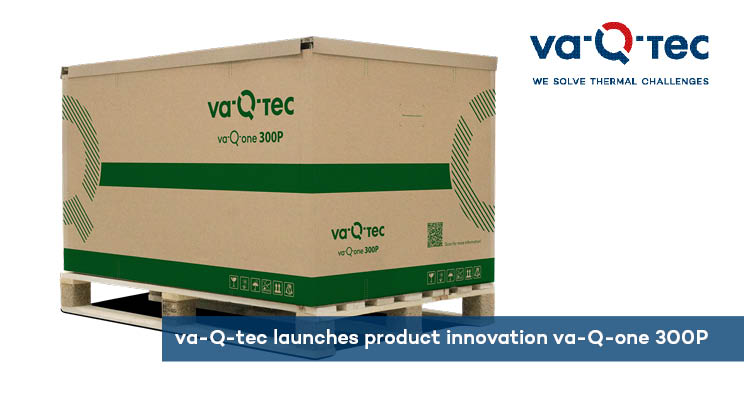 The new va-Q-one 300P transport container is a temperature-controlled transport solution in Euro pallet size (standard pallet according to EN 13698-1).
The solution offers a lot of usable volume combined with low weight and keeps the temperature constant for more than 100 hours.
The box is particularly suitable for intercontinental shipments in regions without return transport options.
Würzburg, 18 August 2022: The expert in thermal energy efficiency and temperature-controlled supply chains, va-Q-tec, has opened its office and TempChain Service Center in São Paulo, Brazil with an inauguration ceremony. The event took place at the Grand Hyatt Hotel São Paulo, near the Center of the Brazilian metropolis. On the occasion of the festivities, CEO and founder Dr. Joachim Kuhn did not miss the opportunity to be present at the opening. Together with the Managing Director va-Q-tec do Brasil, Edgardo Ipar, and the Global Head of Sales Christopher J. Storch, he welcomed a large number of pharma shippers, airlines, freight forwarders and industry experts on site. Among them was Mr Thomas Timm from the German Chamber of Foreign Trade (AHK). After an official welcome, Dr Kuhn held a presentation where he informed the guests about the planned business in Brazil and in particular about va-Q-tec's vision for Latin America.
Brazil is the largest country on the Latin American continent and has a comparatively complex logistics infrastructure. With more than 200 million people, it is also the most populous country in Latin America and has extremely diverse climatic zones, from humid tropical to dry and hot. The infrastructure is best developed in São Paulo, where va-Q-tec's office and TempChain Service Center are located. It is also home to the largest airport, as well as a high density of logistics parks. va-Q-tec was especially happy that all major airlines with local operations in GRU were attending the opening ceremony.
With the TempChain Service Center (TSC), va-Q-tec now offers its customers and partners availability of its TempChain solutions in Brazil. The TempChain Service Center in São Paulo was ceremonially opened at the same time as the office. It is full scale and fully operational to serve both box and container business for domestic and international shipments. With this step, va-Q-tec is the first provider of TempChain solutions – different to other multi-national packaging solution providers – that is truly local in Brazil with an own legal entity, office in a central area of São Paulo and sales staff on the ground.
With the expanded capacities, the existing rental business is to be driven forward. Apart from that, the sales team will especially focus on the offering of the entire portfolio of va-Q-tecs Healthcare & Logistics business unit including reverse logistics solutions with the help of different logistics partners. Another strong focus will be the last mile distribution. In general, va-Q-tec's solutions help to avoid waste and are highly sustainable, as they have a low CO2 impact and are in most cases useable on multiple trips.
"The opening ceremony in Brazil was a complete success. We were able to hold very good discussions with our customers and partners and have also received renewed confirmation that this step was exactly the right one," says founder and CEO Dr. Joachim Kuhn. "Brazil is a very important growth market for us. That's why we are very pleased to be able to offer our customers even better access to cost-effective high-performance solutions and thus secure a solid foundation for the provision of high-quality services for the fast-growing Brazilian healthcare logistics business."