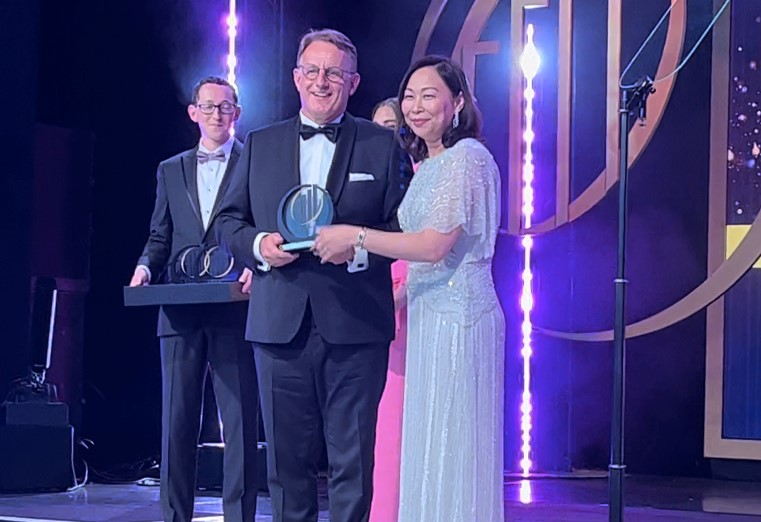 Dr Joachim Kuhn took part in the "World Entrepreneur Of The Year" 2023 Award in Monaco.
The PhD physicist, founder and CEO of va-Q-tec, represented Germany in the international competition at the award ceremony in Monte Carlo, Monaco.
As a pioneer of high-tech solutions and services for temperature-controlled supply chains and thermal energy efficiency, va-Q-tec has been actively contributing to climate protection and saving people's lives since 2001, for example through global vaccine distribution during the Corona pandemic.
Among participants from more than 50 countries, EY awarded Doris Hsu of GlobalWafers Co. Ltd., as World Entrepreneur 2023.
Würzburg, 09 June, 2023: Dr Joachim Kuhn, founder and CEO of va-Q-tec, took part in the EY "World Entrepreneur Of The Year" in Monte Carlo. The competition is organised by Ernst & Young and awards the world's best entrepreneur. Last year in 2022, he was awarded the entrepreneur prize "EY Entrepreneur Of The Year" in the category "Innovation" in Germany and was therefore now allowed to represent Germany at the international competition in Monaco.
A total of more than 50 entrepreneurs met at this year's gala in Monte Carlo, which honours top entrepreneurial achievements in more than 40 countries worldwide. An international jury of experts, consisting of experienced entrepreneurs from various industries, evaluates the candidates on the basis of the so-called Criteria Evaluation Report (CER). The multi-page document contains information on the central evaluation elements Entrepreneurial Spirit, Growth, Purpose and Impact and is submitted by the respective candidates themselves. In addition, interviews are held in which each entrepreneur is given the opportunity to present his or her company to the jury.
Doris Hsu of GlobalWafers Co., Ltd., was finally named World Entrepreneur of the Year by the jury.
Carmine di Sibio, CEO of EY Global, explained the jury's choice as follows: "Doris Hsu has been recognized by the independent judging panel for her outstanding contributions in advancing critical technologies in modern society with her tailored silicon wafers."
Dr Joachim Kuhn is happy for Doris Hsu: "I warmly congratulate Doris Hsu on the EY World Entrepreneur of the Year Award! Her exceptional pioneering spirit and tireless efforts have brought her to the top of the entrepreneurial world. She is an inspiring role model for all who strive to change the world through innovation. May this success open up new opportunities for her to pursue her visionary goals."